STYLE BETON SPRAY HARDENERS are blended from specially selected aggregates and Portland cements.

They are polymer modified to improve their wear characteristics and are through colored using only German Bayer mineral oxide pigments to ensure a non-fading color that is streak free in application.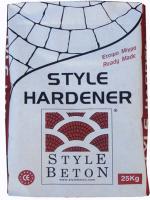 The Style Sealers are appropriate for cement floorings and coverings, industrial floorings, stamped flooring, spray flooring, overlay floorings and acid stain floorings.

They are all pure acrylic-based resins in virgin solvents for improved clarity and anti-yellowing characteristics.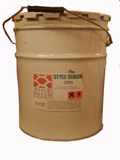 Is a acrylic polymer aqueous solution to be of use as primer of anchorage on surfaces in cement for the covering Deco Create and us to create a perfect adhesiveness between a new and old concrete flooring.

Is used in Style Spray system and Style Overlay system in the mix with proper quantity to contribute at superior adhesion on support.