The Style Sealers are appropriate for cement floorings and coverings, industrial floorings, stamped flooring, spray flooring, overlay floorings and acid stain floorings.
They are all pure acrylic-based resins in virgin solvents for improved clarity and anti-yellowing characteristics.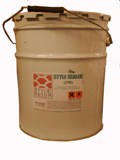 STYLE ACID STAIN is a compound formed by metallic salts and plugged acids of various nature , it is applied on concrete bases on auto levelling etc. and it develops with these a chemical reaction which produces coloured salt crystals which fills the micro holes in the concrete base colouring permanently the surface.

It does not contain hydrochloric acid and it can be transported as non dangerous product also by air.